If you've taken out a loan or a credit card, your finance provider might've sold you Consumer Credit Insurance.
Consumer Credit Insurance (CCI) provides cover if you can't afford your payments in some circumstances. It's sometimes called Loan Protection Insurance, Mortgage Protection Insurance, Credit Card Insurance or Personal Loan Insurance.
[expand title="What does it cover?"]
There are different types of cover available, but they're generally made up of:
Disablement (if you can't work due to illness or injury)
Unemployment (if you lose your job unexpectedly)
Life (if you pass away)
Some policies also have cover for trauma (such as cancer or a stroke) or for terminal illness.
What's included in your cover should be explained in your Certificate of Insurance.  This is the document the insurer sends you, listing important details like the price and the options you've chosen.  It usually has your name and address on the top left hand side.
This person has bought disability cover only: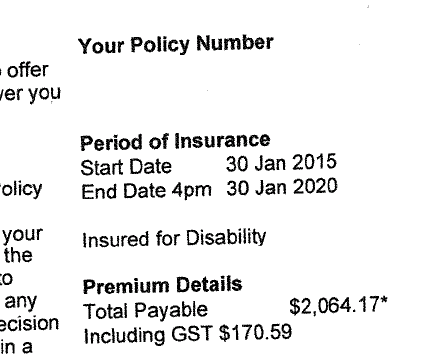 You can ask your insurer for a copy of the Certificate of Insurance and the policy wording if you can't find it.  You can also ask your insurer what cover you have if you can't work it out from the documents.
[/expand]
[expand title="What's the problem?"]
These are some of the issues we see:
It might be useless to you. For example, unemployment cover in a CCI policy will probably not pay out if you're unemployed or working casually.
Premiums are quite expensive. Expect to pay over $2000 for CCI. Remember, you're probably paying interest as well. To see how this works in practice, read about Consumer Action's client's experience here.
Payments might not cover the full amount of debt. For example, if you become unemployed or disabled, the CCI may only cover your repayments for a certain period of time. CCI may only pay minimum monthly repayments on a credit card, not the rest of the debt.
A tricky sales process. A salesperson will sometimes add CCI onto a loan or credit card without explaining what the CCI is, or without the customer knowing.
[/expand]
[expand title="What should you do?"]
Check your policy to see what it covers and if it's what you thought you were buying. See below for more help with this.
Think back when you were sold the insurance. Did you agree to buy it or was it bundled in with other papers when you got a loan or credit card? Did you feel pressured to buy it?  Were you given incorrect information? Was the process unfair in any other way?
If insurance was added onto your loan without you knowing, the salesperson lied about the insurance or you think you were treated unfairly use our website to help you ask for a refund.
[/expand]
[expand title="What does my policy cover?"]
Check your policy so you can see if it's suitable for you or get some advice if you aren't sure what protection it gives you.
Things to look out for:
If you were unemployed, when you took out unemployment or disability cover
If you were working part-time or working on a non-permanent basis when you took out unemployment cover
If you were self-employed when you took out unemployment cover
If you got life insurance, but had no dependents (Kids or a partner who rely on you)
If you got disability cover or life insurance when you have a pre-existing condition.
[/expand]
[expand title="Unemployed"]
If you were unemployed when you bought the policy, your cover under a CCI policy is likely to be limited.  Your policy might in fact require that you have been working for a certain amount of time, like this clause:

[/expand]
[expand title="Non permanent/casual work"]
You policy might not provide cover if you work on a casual or non-permanent basis.
This is an example of what a casual work exclusion might look like in a CCI policy: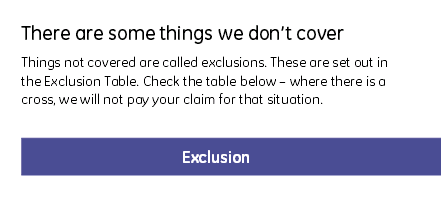 [/expand]
[expand title="Part-time work"]
Sometimes CCI policies will not provide unemployment cover if you work part-time.  Some policies say 15 and others say 20 hours, so it is important to check your policy.
This policy provides unemployment cover in some circumstances.  You have to have been working in 'Permanent and gainful employment' first:
The policy then describes 'Permanent and gainful employment' as being working for 'a minimum of 20 hours every week':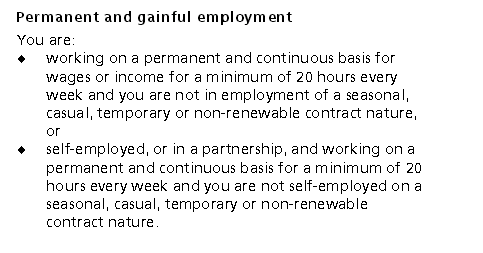 [/expand]
[expand title="Self-employed"]
Some policies exclude or restrict cover for people who are self-employed.  This could look like this:


[/expand]
[expand title="Pre-existing condition"]
If you have had a medical condition, for example, depression or osteoarthritis, your policy probably won't cover you for claims that are caused by that condition.  This is how the exclusion might look in your policy (the 'dots' in this one mean you are not covered for those things):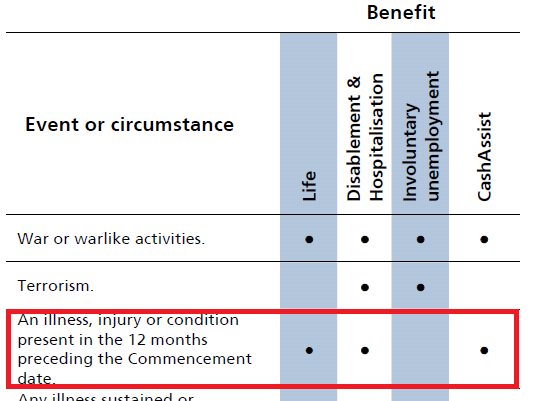 [/expand]
[expand title="Want more information?"]
The ASIC Money Smart website has really helpful information about Consumer Credit Insurance.
If you want to read more about problems Australians have experienced with these products, have a look at Consumer Action Law Centre's report, Junk Merchants – how Australians are being sold rubbish insurance and what we can do about it.[/expand]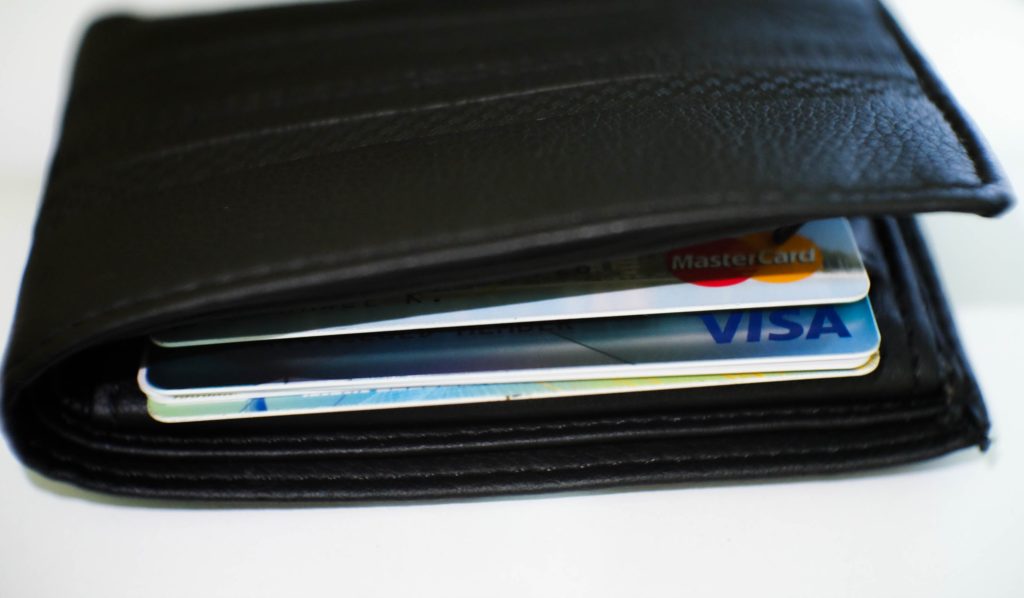 This fact sheet is for information purposes only and should not be relied upon as legal advice.  This was updated on August 21, 2018.