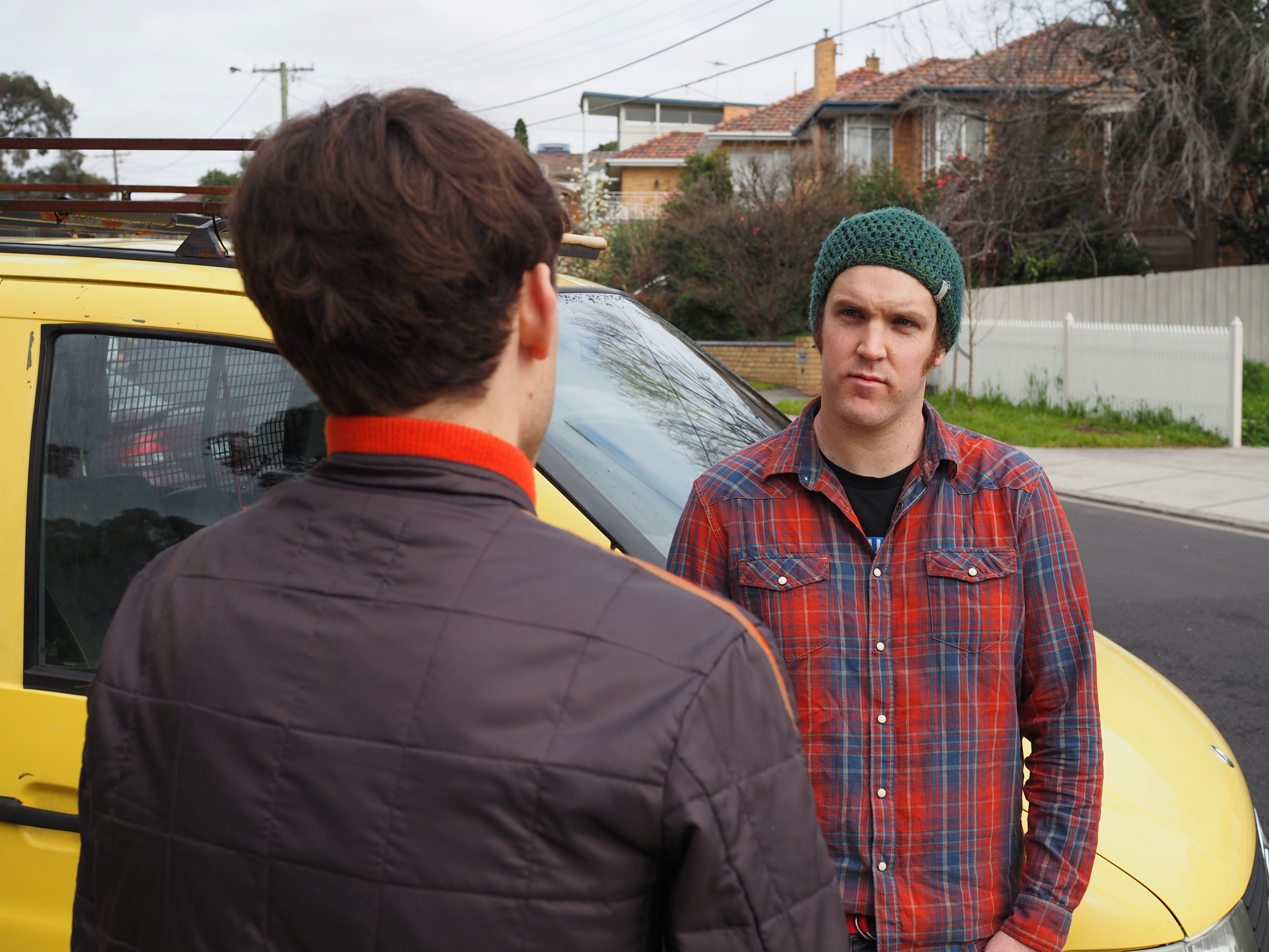 For interview requests and further information – call Jonathan Brown on 0413 299 567 or email jonathan@consumeraction.org.au
Senior Policy Officer Susan Quinn – Photo 1 – Photo 2
Philippa Heir with Mark Melville (who successfully got a refund through DemandARefund.com) – Photo 1
Using the DemandARefund.com site – Photo 1
Mark Melville video interview – Video available for embedding or broadcast use. mp4 version available here [mp4]
Interview with Gerard Brody, Consumer Action CEO and David Leermakers, Insurance Expert
Mp3 available for broadcast or publication here [mp3] – this audio is available for news grabs and general use.
News grabs and quotes:
Gerard Brody, Consumer Action CEO
"Look the problem is that too many insurance companies are selling junk. They're selling Australians products that are very very low value and in a really tricky sales process whereby people don't even know that they're buying it or the product is never going to offer them value"
Gerard Brody – Audio Grab 1 – What's the problem? [mp3]
"In the UK consumers have been refunded over 22 billion pounds for mis-selling of add on insurance and warranties. It's been a huge scandal in the UK and our estimations about the situation in Australia is that there's at least 70 million of refunds on the table for consumers to claim because they may have been mis-sold these products"
Gerard Brody – Audio Grab 2 – How much money? [mp3]
David Leermakers, Insurance Expert
"This may mean a refund for you of thousands of dollars. It's worth your time. And it's also really worth people all over Australia doing that to send a message to insurers that it is not good enough that they allow their products to be sold through this kind of exploitative practice"
David Leermakers – Audio Grab 1 – Send a message to insurers [mp3]
"If someone has been sold a product by having a salesperson just slip insurance paperwork into a big bundle of documents when you're buying a car, you know hurrying you out the door, putting you under pressure to sign the documents and just saying 'don't bother reading it, sign here, sign here, sign here'. That is not lawful. That's not lawful behaviour. So you are entitled to get your money back for that. So we would suggest to people, if you feel like you've been taken advantage of don't be afraid, you haven't done anything wrong. Come forward and tell the insurers the way your salesperson sold me this product is not good enough. It's not acceptable and you should give me my money back."
David Leermakers – Audio Grab 2 – It's not acceptable [mp3]
Videos and Photos:
Jennifer and Glen Conopo tell their experience of being sold junk insurance when all they wanted was a simple family car:
Video available for embedding or broadcast use. mp4 version available here [mp4]
Jennifer and Glen's (VIC) story featured in Consumer Action's 'Junk Merchants' report is available for download here [PDF] and includes case studies of Australians who've been mis-sold these products. Jennifer and Glen Conopo (featured in the video here) are unavailable for interview, but they are now happy for their case study to be identified. Their story from the 'Junk Merchants' report is as follows:
Jennifer and Glen applied for car finance in 2015 through a smaller finance provider. After initially spending over 10 hours with the finance provider, Jennifer and Glen met a representative of the financier in a restaurant on a later day to sign the paperwork. It was late in the evening and Jennifer and Glen had their toddler with them in the restaurant and other children at home who were unwell. There were a large number of papers to look through and Jennifer said she felt under pressure to sign. The salesperson pointed out one add-on product and said that this meant someone would come and get them if they broke down. Only many weeks later, when Jennifer was speaking to Consumer Action did she realise she had signed up for three addon products (CCI, Gap and a discretionary risk product) that she did not know about. Jennifer and Glen have been released from the credit contract.
The above video and high resolution photos of Jennifer and Glen are available for media use. Photo 1 and Photo 2.
Zane Alcorn (VIC) shares his shock when he fell foul of the terms and conditions on an extended warranty:
Video available for embedding or broadcast use. mp4 version available here [mp4]
Zane is a tradie who bought new work van in 2012 – he bought an extended warranty thinking it would provide him peace of mind, but when a major problem affected his car, his claim was rejected because he did not meet a highly technical and confusing clause about servicing requirements. He fought back against the company.
A high resolution photo of him is available here – Photo 1
Federal MP Andrew Giles shared his thoughts about Stop Selling Junk and DemandARefund.com:
Video available for embedding or broadcast use. mp4 version available here [mp4]
Tim from the Victorian Aboriginal Legal Service shares his thoughts about Stop Selling Junk and DemandARefund.com:
Video available for embedding or broadcast use. mp4 version available here [mp4]